Pediatric Dentistry in Flint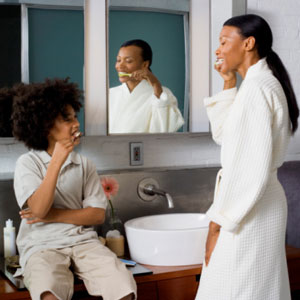 At Hallmark Smiles Dental Care, we love helping kids smile brighter and enjoy optimal oral health. As a mother of two children, Dr. Antonela Larashi is passionate about promoting healthy oral hygiene habits to kids and providing gentle dental care.
If your child is between the ages of 1 and 3, Dr. Larashi focuses on reviewing with you the importance of a tooth-friendly diet as well as habits that your child should avoid. Once kids are over the age of 3, she begins seeing them for routine cleanings and exams.
Offering an Array of Services
In addition to preventative dentistry, we provide the following services for children:
Extractions
Fillings
Fluoride treatment
Sealants
Orthodontic referrals
Keeping Kids Comfortable
Dr. Larashi and her team love seeing kids in the office and will do everything possible to ensure they are entirely comfortable with their dental experience. We will explain the process of each procedure we perform. Nitrous oxide (also known as laughing gas), is also available for children who tend to be more nervous about having a dental procedure performed.
Cavity Free Club
The Cavity Free Club is for children 12 years and under who come in for check up and cleanings and have no cavities. They will receive a certificate to show all of their friends and family!
They will also have their name entered into our quarterly draw for a special prize to say Good Job Brushing & Keep Up The Good Work! Our quarterly winner will be featured on our Facebook page.
FAQ
When should I start brushing my child's teeth?
As soon as your child's teeth emerge, it is important to keep them clean. You can use a cool washcloth to wipe their teeth until they turn 3. After that time, you can begin to brush their teeth, using a pea-sized amount of toothpaste.
How often should I bring my child in for checkups?
Once they are 3 years of age, we recommend that they visit us every six months for an exam and routine cleaning.
Why is it necessary for my child to have X-rays?
Routine X-rays let Dr. Larashi know if and where cavities are present. They are an essential diagnostic procedure. Our new digital X-rays also emit less radiation than traditional X-rays.
No matter the age, your child can enjoy optimal oral health as well as a bright, beautiful smile with dental care at Hallmark Smiles Dental Care. Contact us today to schedule an appointment with our team!
CONTACT US »

Pediatric Dentistry Flint MI | (810) 732-8020