Orthodontics in Flint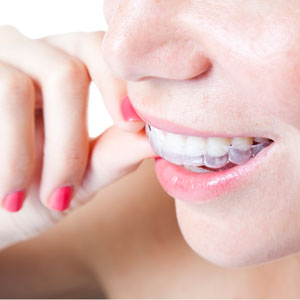 If you're looking for a Flint family orthodontist, you'll be happy to know that we offer services for adults and children in our general practice. No referrals are necessary! Dr. Antonela Larashi has additional training in orthodontic techniques in order to offer these options and make your care more convenient.
Traditional Orthodontics
Conventional braces are usually preferred for children and teens but some adults choose them as well. The straightforward orthodontic method makes it possible to address bite concerns in patients as young as seven years old. Correcting tooth misalignment while your child's orofacial anatomy is still developing can help them to avoid more complex orofacial corrective needs in the future.
Clear, Removable Invisalign® Systems
Adults and older teens love the benefits of Invisalign clear braces. These translucent aligners can be removed for easy care and maintenance, not to mention the freedom they give you to eat whatever you want.
Invisalign works by placing slight amounts of pressure on your teeth. Every two weeks the aligners are changed out to further progress your tooth movement. Because Dr. Larashi sends you home with several trays at a time, we only need to see you for a short follow up about every 4-6 weeks.
Benefits of a Straighter Smile
Besides the cosmetic advantages of having straighter teeth, a properly aligned bite is less prone to complications like
Gum disease (periodontitis)
TMJ disorder
Headaches, migraines
Tooth decay
Premature tooth wear
Fractured dental work
Your Orthodontic Consultation
To find out whether or not braces or Invisalign are right for your needs, it's important to schedule a consultation with Dr. Larashi. During your visit, she will thoroughly examine your oral anatomy, dental health and discuss what concerns are your biggest priority. We'll take a series of digital X-rays, photographs and impressions of your teeth to fully assess the way they fit together.
If you're considering clear braces, we will send your records to Invisalign labs, who will create a digitized representation that you can preview before starting treatment (so that you know what your final results should look like). But if you opt for traditional braces, we can usually start treatment right away.
CONTACT US »
Call today to schedule! Dental insurance is accepted and convenient ortho financing plans are available.

Orthodontics Flint MI | (810) 732-8020