Dental Implant Solutions in Flint
Hallmark Smiles Dental Care Dental Care Options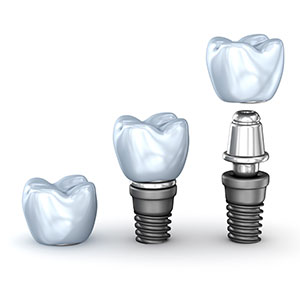 When it comes to replacing missing teeth or rehabilitating your smile, our Flint family dentist recommends dental implants.
Implants are designed to mimic the natural anatomy of tooth roots, allowing them to be set into the jaw in a way that supports permanent restorations such as a porcelain crown, bridge or stabilized dentures.
Made from titanium, these biocompatible restorations integrate with the body the same way hip or shoulder replacements (also made of titanium) do. In fact, they trigger new bone growth around them to keep them securely in place: a process that we call "osseointegration."
Should You Consider Dental Implants?
If you have a broken tooth that is not restorable and needs to be removed or you already have missing teeth, implants offer the longest-lasting solution to replace them. Dr. Antonela Larashi will thoroughly review your medical history, oral health and anatomy and then determine if you are an ideal candidate for the procedure.
What to Expect From Treatment
Getting dental implants is generally a multiple-visit procedure that takes 3-6 months to complete. Before starting treatment, Dr. Larashi will walk you through exactly what to expect. This appointment generally includes a brief consultation, treatment planning, the surgical implant of the placement and a period of healing (with a temporary tooth made as necessary) before the permanent restoration is affixed to the integrated implant.
State-of-the-Art Cone Beam CT
We are pleased to offer 3D Cone Beam CT scanning at our practice. Dr. Larashi uses it to see if there is enough space for an implant, and if there is enough bone for the post. The technology also assists in guiding the placement of the post.
The benefit to our patients is that she will be able to prevent issues with placement and place the post more accurately. These benefits increase your chances of having a successful dental implant. If Dr. Larashi spots a problem with not having enough bone for the placement or if a sinus lift is needed, then she will refer you out to a specialist.
Other benefits of the 3D Cone Beam CT:
Scanning is painless, noninvasive and accurate.
It can image bone and soft tissue at the same time.
No radiation remains in a patient's body after a CT examination.
Getting Implants is Easier Than You Think
Feeling nervous about the idea of having a titanium "root" implanted into your mouth? Dr. Larashi has a dental implant, too, so she knows exactly what her patients are experiencing when they opt for this state-of-the-art treatment. Nitrous oxide sedation is available to help you relax throughout the efficient, minimally invasive surgery.
Your dental implant might be covered by dental insurance. If not, flexible CareCredit financing is available so that you can start treatment right away. Contact us today to schedule a consultation.
CONTACT US »


Dental Implants Flint MI | (810) 732-8020